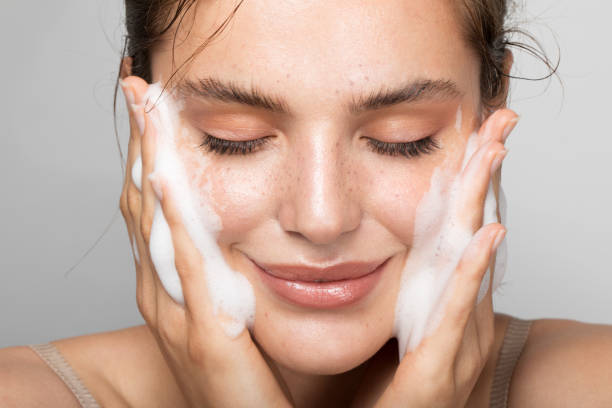 When discussing skincare products, one product that is arguably timeless is a mask. Masks are products that have been used since time immemorial to help treat facial skin. Besides being considered as something that can add pleasure and accompany your "me time", masks have now become an important step in your skincare routine.
However, along with the development of skincare products, mask products have now also experienced many developments. Various types of masks have appeared, ranging from peel-off masks, sleeping masks, hydrogel masks to sheet masks that are very high in demand. These various types of masks also have many different benefits and use for the treatment of almost every skin problem.
With so many face masks flooding the market, it certainly raises the question which mask is best for your skin? The first thing you have to do is know your skin type and look for a mask that is specifically made for your skin type and make sure the product is licensed from the dermatology clinical trial site. Read the list of ingredients carefully, as some of them may not be good for your skin type.
1. Clay Mask
If you have oily or acne-prone skin, you need something that balances oil levels and regulates the secretion of oil on the surface of your skin. Clay Mask can help to smooth and soften the surface of your skin.
The way the clay mask works is by removing all the dust and dirt that has accumulated on the surface of your skin. This type of mask can also help remove blackheads and solve problems on the T-zone and help tighten your skin. Look for clay masks that contain lactic and citric acid. This type of face mask is a mask for oily and acne-prone skin.
2. Peel off the mask
This type of mask physically removes everything that sticks to the top layer of your skin – such as dead skin cells, dust, oil, and blackheads. Peel-off masks are usually made from fruit or plants and use natural ingredients. If you are looking for a product that helps you achieve instant shine, you need to use a peel-off mask. This type of peel-off mask is good for all skin types.
3. Gel Mask
Gel masks are intended for sensitive and dehydrated skin types because this mask is gentle, mild, and gets absorbed quickly. Ingredients such as cucumber, green tea, and mint are usually found in this mask as they moisturize and soothe your skin as well as tighten them. If you have dry and sensitive skin problems this gel-type mask is a good choice for you.
4. Sheet Mask
One of the most popular types of masks and very much in demand by many people is the sheet mask type mask. The best thing about sheet masks is that they are very effective, hassle-free, and easy to use. You just need to place it on your face, relax a little, and lift it after a few minutes. … Read More...
March 23, 2021
Itchy skin is a very common condition. These complaints often go away on their own, but sometimes they feel severe enough to interfere with daily activities. This severe itching can be a sign of certain diseases that need to be watched out for.
Itchy skin can appear in certain parts of the body, but it can also occur all over the body. Itchy skin sometimes appears accompanied by other symptoms, such as a rash or redness on the skin and rashes.
Itching that appears occasionally and goes away on its own or with the use of itch relievers (antihistamines) is not a condition you need to worry about.
However, you need to be vigilant if complaints of itching on the skin recur, feel heavy, or do not go away with drugs.
Some Causes of Itchy Skin
Itching on the skin is often caused by allergies, irritation, or insect bites. Also, several other conditions or diseases can cause complaints of itching on the skin, including:
1. Skin disease
Some types of skin diseases that can cause itching are:
• Eczema
• Scabies or scabies
• Smallpox
• Ringworm or yeast infection
• Psoriasis
• Folliculitis
• Hives
• Prurigo
The itching sensation can be felt only in certain areas of the skin or in various parts of the body. Apart from itching, this skin disease can also cause other symptoms, such as skin irritation and redness or spots on the skin.
2. Dry skin
Dry skin types often feel itchy on their skin. Dry skin usually occurs due to a lack of natural oils or sebum which functions to moisturize the skin.
Dry skin can be caused by several things, such as frequent use of soaps or skincare products with harsh chemicals, dry air, frequent showering or hot showers, and prolonged exposure to air conditioning.
Also, dry skin can be caused by certain diseases, such as eczema or dermatitis.
3. Nervous disorders
Itchy skin that doesn't heal or persists for a long time can be caused by a nervous breakdown. Several types of neurological diseases that can cause hives are neurodermatitis, shingles, multiple sclerosis, and neuropathy.
Besides, diabetes complications, such as diabetic neuropathy, can also cause itching.
4. Systemic disease
Itching can also be caused by diseases or disorders in certain organs or systemic diseases. Several types of diseases can cause itchy skin complaints, including:
• Liver disease, such as hepatitis and cirrhosis
• Impaired bile flow or cholestasis
• Celiac disease
• Iron deficiency anemia
• Kidney failure
• Thyroid disorders, e.g.; hyperthyroidism
• Diabetes
• Cancer, such as leukemia and lymphoma
• Autoimmune disease
5. Allergic reaction or irritation to certain ingredients
Allergies are one of the most common causes of itching on the skin. This allergic reaction occurs because the immune system overreacts to certain objects or substances that trigger allergies (allergens).
Allergy triggers can vary, from chemicals in soap or cosmetics, pollution, dust, cigarette smoke, to certain foods or drugs, including herbal medicines.
6. Hormonal changes during
…
Read More...
March 5, 2021
Facial laser treatment or laser resurfacing is a facial treatment that has many benefits. This treatment can treat fine lines, wrinkles in the face area and is considered to be an effective way to remove acne scars.
Today, facial laser treatments are easily available. Even so, before doing it, it's good if you understand more deeply about this procedure first.
Who can undergo laser resurfacing?
This treatment is suitable for those of you who want to tighten sagging facial skin or as a way to get rid of superficial acne scars. In addition to making irregular skin areas gradually smoother, this treatment can remove dead layers of skin. Face lasers are generally used when other facial treatments don't work for your complaints. However, this treatment is not recommended for skin with severe acne and skin that is too loose.
How do facial lasers work?
According to Vial Dermatology CRO, laser resurfacing can be done in two ways, namely ablative and non-ablative lasers. Ablative lasers are a type of laser that can cause injury by removing a thin layer of skin. Types of ablative lasers include carbon dioxide (CO2) lasers and erbium lasers, whereas non-ablative lasers do not cause injury because they stimulate collagen formation and tighten the skin underneath. One type of laser that is included in non-ablative lasers are intense pulse light (IPL) devices. CO2 and erbium facial lasers are the more commonly used types. By utilizing one of these two elements, damaged skin cells can be lifted and evaporated. As we know, the method of using CO2 has been applied many years ago to treat various skin problems. Starting from wrinkles, scars, warts, and so on. Before doing laser treatment, you must consult a dermatologist to find out which type of procedure is most appropriate for your skin condition. You are advised not to do facial laser treatments anywhere as they can be dangerous and increase the risk of complications.
Benefits of erbium and side effects of facial lasers
The erbium layer actually has the main benefit of removing fine lines both on the surface and inside of the skin. As well as minimally burning the tissue, the erbium layer also has fewer side effects, so you only need about a week to recover from it. This is certainly different if you use laser resurfacing with a CO2 layer. Because the womb takes about 2 weeks to heal. Like other beauty treatments, side effects of facial laser may also arise after the procedure, including:
Swelling.
Redness.
Burning (hot) sensation on the skin.
Infection.
The appearance of black marks (hyperpigmentation).
Scar.
To reduce the risk of side effects, you need to follow the post laser instructions given by the doctor properly and regularly.
Length of laser resurfacing procedure
Patients who want to do the treatment on a small scale only need about 30 to 40 minutes. Meanwhile, if you want to do full treatment on the entire face area, it will take about 2 hours. Once all procedures … Read More...
February 27, 2021
The dental handpiece is probably your most used equipment and as such takes the most wear and tear in your office. To properly maintain this vital piece of equipment, you will want to follow some basic tips such as ensuring that it is set up properly and that your technician is using the correct replacement parts.
Read the Instruction Manual
Your first step in routine maintenance for your dental hand piece is reading the manufacturer's instruction manual for your unit. It is a good idea to use page markers and highlighters to pinpoint important information such as who to call for troubleshooting, recommended settings and operational guidelines.
Follow Pressure and Sterilization Recommendations
Each handpiece make and model will have manufacturer recommendations for pressure settings and sterilization procedures which do not always equate to other brands or models of dental handpieces. If you are not following these recommendations, your equipment could malfunction or could wear out more quickly than expected.
Use OEM Parts and Accessories
Original Equipment Manufacturer parts and accessories can be more expensive than those made by other companies, but they are also designed specifically for the model of dental handpiece that you are using. This means that the fit and function of these items are more precise than those developed or manufactured for a variety of makes and models. Using the wrong end-cap wrench, for example, can lead to unseen damage and more frequent repairs than if you used the wrench supplied by the manufacturer.
Not every dentist or dental office manager is expected to repair and maintain each piece of equipment in the office, but, he or she is expected to know what types of maintenance each one needs. This means thoroughly reading and understanding the instruction manual, ensuring that manufacturer recommendations are being followed and using the right parts and tools for each equipment unit.… Read More...
December 28, 2020
Nothing is better after a long day than sitting down at a pristine eatery and allowing expert staff to meet every culinary need. Of course, the initial dilemma of choosing a restaurant is sometimes enough to derail an entire evening. If you ever have a problem narrowing down the range of local options, keep reading for some simple tips to follow.
Determine Your Interests
While the internet can be an excellent resource for determining how many restaurants are in a community, the sheer number of results can be overwhelming. For that reason, any details a diner can include in a search will help narrow down the results. For example, someone in the mood for a crab restaurant Plano might want to browse results based on location, price, or other factors.
Define Your Palate
Of course, not all foods within a category are created equally. Do some research based on reviews and recommendations to decide whether the food and atmosphere being described sounds like an enjoyable or memorable event. Is the food too spicy? Are there any gluten-free options? Answer any pertinent questions to avoid an unpleasant surprise.
Describe Your Desires
Whether a simple night out or a celebration of a major event, each dinner excursion carries with it unique characteristics. Before making reservations, be sure any prospective restaurant can provide the type of ambiance and seating capacity needed to fully enjoy the purpose of the evening.
There are few routine experiences that can be more closely tied to long-lasting memories than an excellent meal. If you are in the mood to discover a new restaurant or an entirely new cuisine, it is relatively simple to decide on the perfect place to go. Starting with the basic guidelines listed above will lead any hungry party to the perfect location for food and fun.… Read More...
November 30, 2020