A Week of Healthy Recipes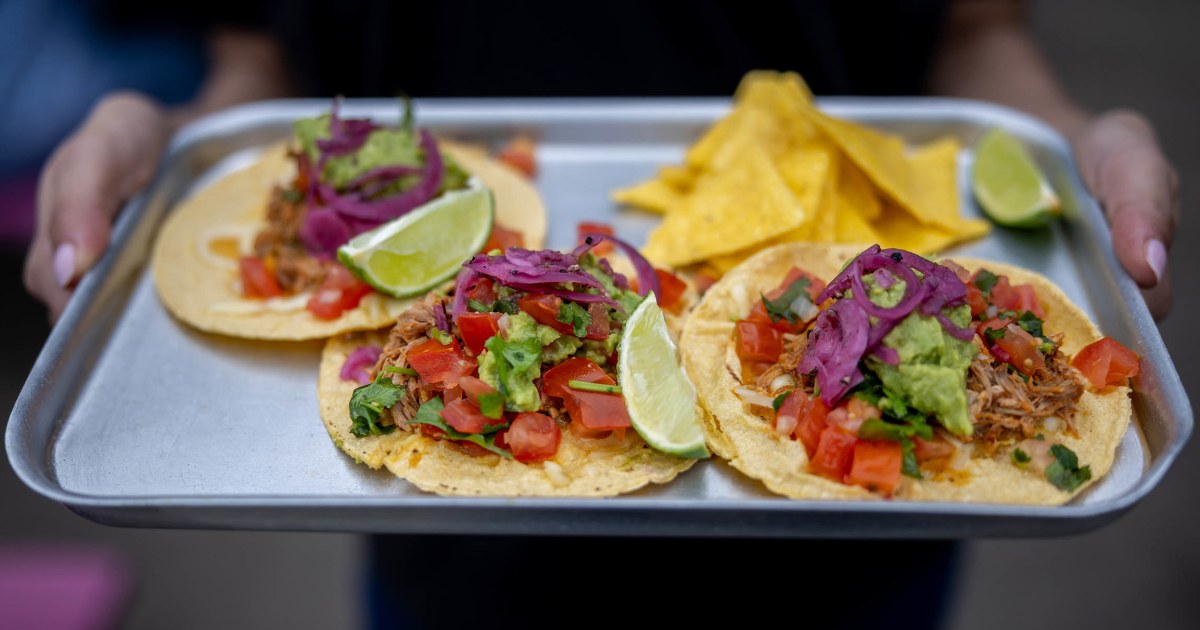 A calorie is a unit of energy, and the amount we need daily varies widely.
According to the most recent Dietary Guidelines for Americans, the recommended calorie range for females is 1,600-3,200 calories daily.
Based on these numbers, a 2,000-calorie diet may be the sweet spot for you. Here's what you need to know about eating 2,000 calories a day — and a sample meal plan that shows you how to do it in a healthy way.
What is a 2000-calorie diet?
You may have noticed the 2000-calorie diet on the US Nutrition Facts label as the reference point to weight daily value percentages of nutrients. The FDA considers the 2000-calorie diet "a general guide for nutrition advice." Still, that number may or may not be appropriate for everyone. The amount of calories an individual needs is dependent on multiple factors such as gender, age, activity level and weight status (and whether or not you want to gain weight, lose weight or maintain weight).
Can you lose weight on a 2000-calorie diet?
Your ability to either gain or lose weight may not always be determined by a single caloric goal. If weight loss is the goal of a 2000-calorie diet, then adding in physical activity and choosing nutrient-dense options most of the time may assist in your efforts. However, for some individuals a 2000-calorie diet is too much energy for long-term weight management. One option is to start at a 2000-calorie count and reduce to a lower calorie level if you are not seeing the scale move after a few weeks.
The benefits of a 2000-calorie diet
A 2000-calorie diet provides many opportunities to obtain plenty of nutrients if you follow a nutrient-dense plan. Within this calorie range, the dietary pattern can include plenty of fruits and vegetables, healthy fats, lean sources of protein and whole grains. Additionally, vitamin, mineral and macronutrient needs are more easily calculated when reading food labels since it's already set as the standard.
The downsides of a 2000-calorie diet
For individuals seeking weight loss, 2000 calories may be too high of an energy amount to lose weight. This is especially true if the individual is sedentary, with limited chances to burn off extra calories consumed in the diet. The fact that the recommended calorie intake for females is such a big range proves that there is no one-size-fits-all number. Therefore, individualization is crucial to determine what calorie amount and macronutrient breakdown makes sense for you.
Focus on calorie quality over quantity
Finally, quality always trumps quantity when it comes to any dietary pattern. Aim for quality sources of calories 80% of the time.
Finding a balance of nutrients that benefit your individual health should be the primary goal. For example, a pregnant or breastfeeding woman needs more calories per day than a woman in her 60s who is sedentary. Safety is also a key component. Consuming too few calories may put you at risk for malnutrition, whereas too much energy from food could contribute to weight gain. Finding the right plan for you may take time and assistance from healthcare professionals such as registered dietitian.
2000-calorie diet meal plan
If a 2000-calorie diet sounds right for your personal goals, the following seven-day plan may be a great starting point. This plan provides a healthy balance of nutrients necessary for good health.
Each meal offers around 500 calories, and each snack provides about 250 calories. Consuming three meals daily, plus two snacks, will reach approximately 2000 calories per day (plus or minus 10% relative to individual portions.
Day 1
Breakfast: One cup steel cut oats (cooked; about ½ cup dry), 1/3 cup blueberries, ¼ cup strawberries, 1 tablespoon chopped walnuts. Drizzle of honey or maple syrup on top.
Lunch: Mixed greens with 2 tablespoons chopped dates, 1 tablespoon chopped pistachios, and 2 -3 tablespoons balsamic vinaigrette topped with a 5-ounce piece of baked or grilled salmon. Add a whole-grain roll or a handful of whole-grain crackers as a side.
Dinner: Three chicken tacos with ½ cup of shredded chicken on each taco (here's how to shred chicken), ¼ cup of cabbage slaw mix, onions and peppers. Add 3 tablespoons guacamole and 1 cup tortilla chips and salsa. Serve with with corn tortillas.
Day 2
Breakfast: Three egg scramble with ¼ cup mushrooms, 1 ½ cup fresh spinach, 2 tablespoons cheese, 2 tablespoons crumbled turkey bacon with two slices of whole-grain toast. Add 1 tablespoon extra virgin olive oil to a pan, add eggs, and let sit for about 1 minute on low heat. Once whites start to cook, add in the remaining ingredients and scramble until the eggs are no longer runny.
Lunch: Large bowl (1.5 cups) of Turkey chili with cornbread.
Dinner: Four ounces of grilled flank steak, with 1 cup of brown rice, 1 cup of cooked lentils mixed, and 1 cup of steamed broccoli. Drizzle with garlic-infused olive oil.
Day 3
Breakfast: Three medium protein pancakes or whole-grain pancakes topped with ½ cup chopped apples, 1 teaspoon cinnamon, and 1 ½ tablespoons pure maple syrup.
Lunch: Turkey sandwich with 1.5 ounces turkey, one slice Swiss cheese, and ½ an avocado smashed. Top with condiments of choice and pair with 1 cup fruit salad.
Dinner: One cup cooked bean-based pasta, with ½ cup pesto sauce, 1 cup broccoli crowns, chopped, and 5 ounces sliced rotisserie chicken.
Day 4
Breakfast: Yogurt parfait with 1 cup low-fat or full-fat yogurt, 1 cup blueberries, 3 tablespoons chopped pecans, and ¼ cup chopped dates, drizzle with 1 tablespoon honey.
Lunch: Peanut chicken wrap with 5 ounces of chicken strips, 3 tablespoons peanut sauce, ¼ cup julienne carrots, ¼ cup slaw mix, and 1 tablespoon fresh cilantro. Use a whole grain or gluten-free wrap and save extra sauce for dipping.
Dinner: Five ounces air-fried salmon, 1 cup sautéed zucchini, and 1 cup fingerling potatoes with sea salt and rosemary.
Day 5
Breakfast: Two hard-boiled eggs with two slices of avocado whole-grain toast.
Lunch: 5-ounce turkey burger on a whole-grain bun with a kale side salad topped with ½ cup sweet potato cubes and 3 tablespoons chopped walnuts. Top with 2-3 tablespoons of turmeric ginger tahini dressing.
Dinner: Mediterranean grazing board with three falafel, ½ cup hummus drizzled with 1 tablespoon extra virgin olive oil, two small pitas, and two chicken kebabs.
Day 6
Breakfast: 1 cup old-fashioned oats (cooked, about ½ cup dry) with 2 tablespoons hemp seeds, ½ cup sliced bananas, and one tablespoons drizzled honey.
Lunch: Freekeh bowl with 1.5 cups cooked freekeh, three tablespoons slivered almonds, ½ cupped chopped asparagus, and ½ cup sautéed shallots. Top with 2-3 tablespoons green dressing.
Dinner: Two slices of whole-grain white pizza (top entire pizza with ½ cup artichoke hearts, 2 cups spinach, 1 cup chopped basil, and 1.5 tablespoons chopped garlic. Drizzle with 2 tablespoons garlic olive oil after baking, and top each piece with a dollop of ricotta.
Day 7
Breakfast: Berry protein smoothie with 1.5 cups unsweetened nut-based milk, 1 cup frozen blueberries, ½ cup kale, ½ chopped apple, 1 tablespoon almond butter and one banana. Add 1 tablespoon protein powder for an additional protein boost.
Lunch: PB&S sandwich with two slices of whole-grain bread, 2 tablespoons natural peanut butter, ½ cup sliced strawberries and 1 tablespoon honey. Sprinkle with 1 teaspoon hemp hearts before adding the top piece of bread.
Dinner: ¾ cup ground bison with 1 cup whole-wheat spaghetti cooked and no-added-sugar tomato sauce. Enjoy with a basic side salad.
Snack options
Medium apple with 2 tablespoon peanut butter
One slice of zucchini bread with grass-fed butter
Yogurt cup with blueberries and almond slivers
Chocolate protein smoothie
1 cup mixed berries with ¾ fresh whipped cream sprinkled with cinnamon
1 cup tortilla chips with ½ cup guacamole
¾ cup edamame dip with whole-grain pretzels
Hummus with pita chips drizzled with olive oil
Homemade trail mix
Roasted chickpeas and a string cheese stick
One orange and a handful of mixed nuts
Banana with two tablespoons peanut butter
Two egg bites
Corn tortilla with 3 tablespoons shredded cheese melted
½ cup cottage cheese with chopped almonds and blackberries
½ cup rosemary cashews
¾ cup hummus with carrot sticks
Three stuffed dates
3 cups of popcorn, mix in a handful of spiced pecans
¾ cup roasted red pepper dip with two small whole-wheat pitas or 1 cup pita chips
Turkey roll-up (corn or whole-grain tortilla) with 2 ounces of turkey and one string cheese stick
Chocolate covered walnuts
1 cup carrots sticks with ½ cup ranch dressing