15 Best-Selling Fitness Products on Amazon That Will Up Your Workout Game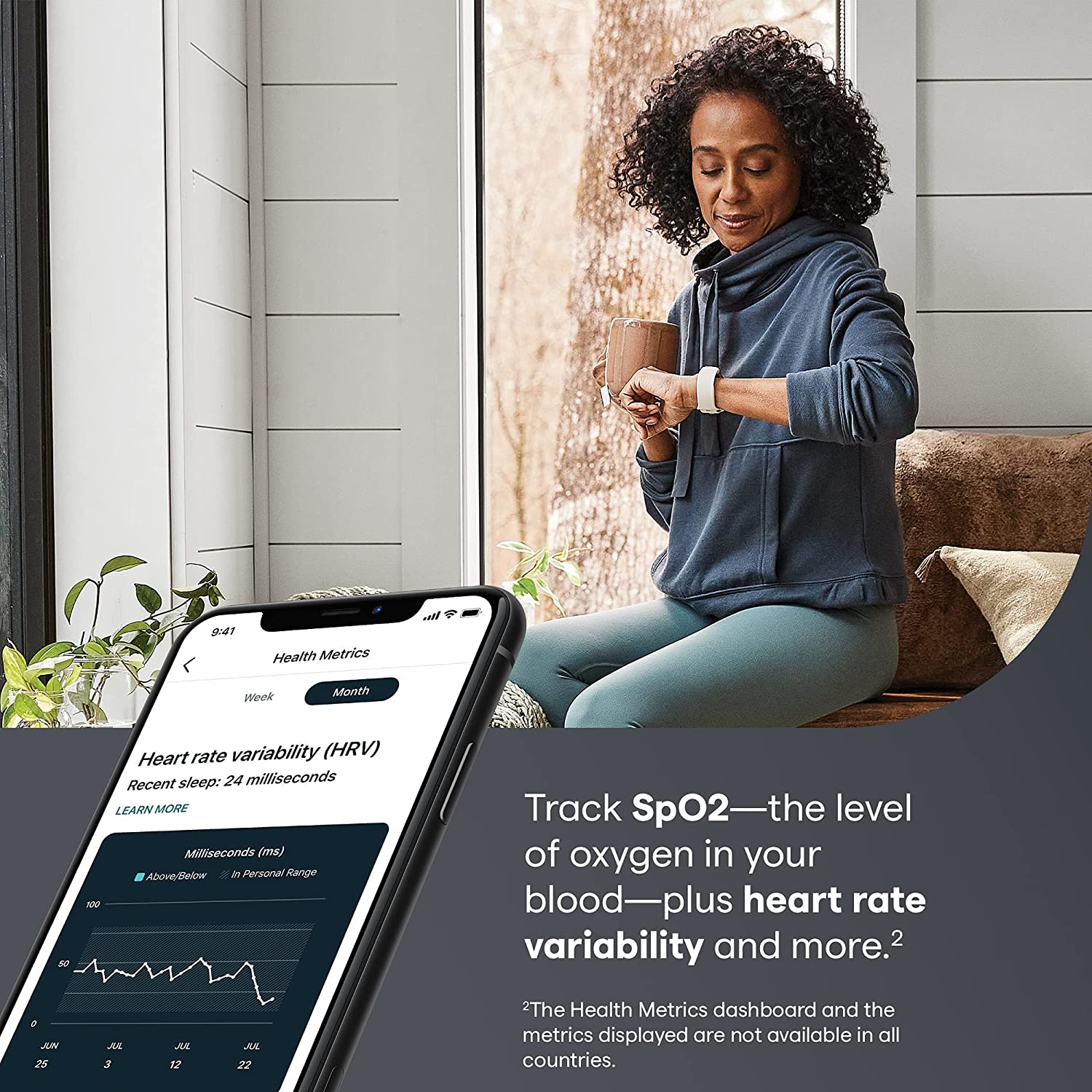 Even if you haven't hit your workout goals this year, there's still plenty of time. Whether you prefer cardio, strength, stretching, balance or a combination of exercises, there are plenty of ways to keep your journey toward health on track.
It doesn't matter if you're a newbie, regular exerciser or true fitness buff; there are plenty of budget-friendly ways to speed the journey toward your goal. New equipment is only part of the answer. There is a wide array of tools that not only make fitness more pleasant but safer and more effective, too.
15 Products to Boost Your Exercise Effectiveness
Many of us are opting to skip the gym and exercise at home. It's easy to miss some of the niceties in the exercise facilities, though, like those cushy padded floors and some of the extra equipment many of us don't have at home. These 15 best-selling fitness products on Amazon will add some of those extras you miss and boost your workout too. As always, the prices listed may fluctuate over time.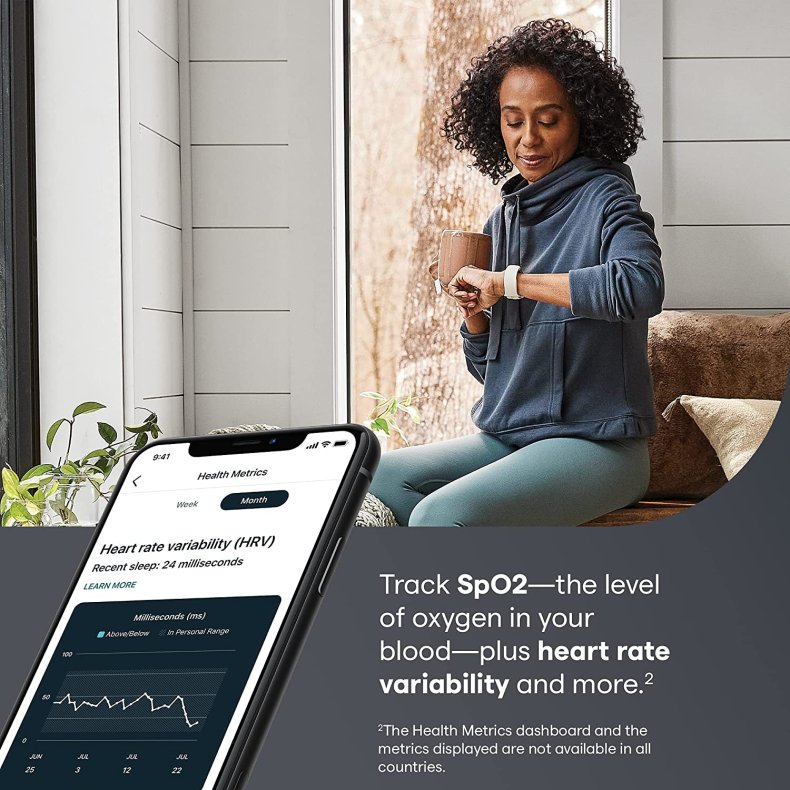 There are plenty of ways to check your fitness progress, but one of the most popular is with Fitbit Charge 5. This advanced fitness tracker not only keeps you updated on many variables, including heart rate, skin temperature, calories burned and steps taken but also tallies your stress management score and guides you toward optimal recovery. It comes with a six-month premium membership with guided programs, advanced analytics and personalized insights. The battery lasts up to seven days on a single charge, so you don't have to worry it will run out of energy before you do.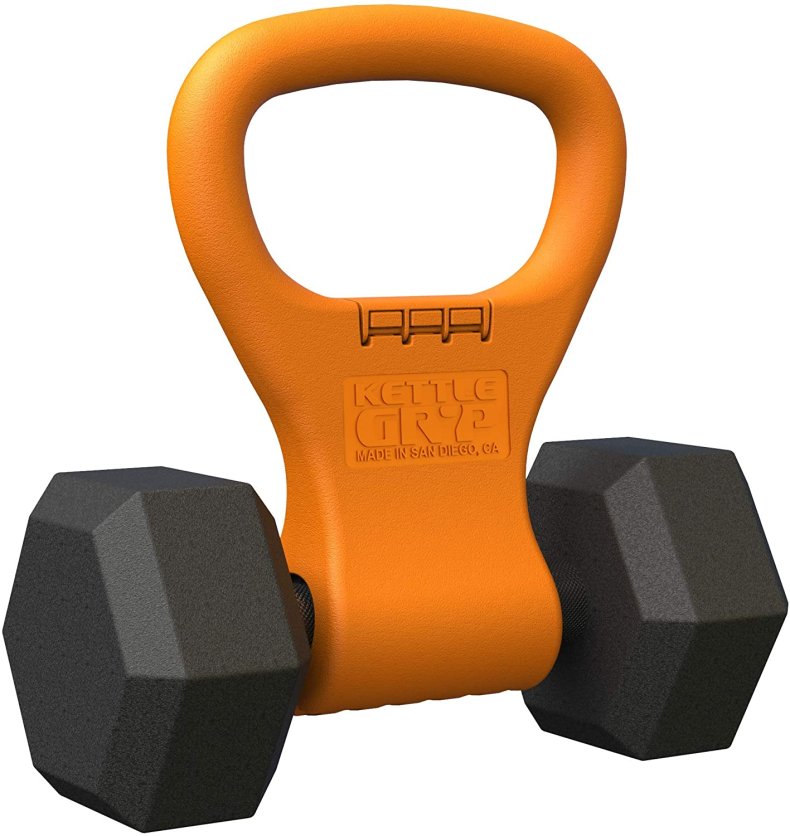 As a kettlebell enthusiast, I can tell you that many people don't have them and try to use dumbbells instead. I understand that they don't want to spend money on kettlebells when they already have free weights. The problem with holding dumbbells vertically to replicate the kettlebell workout, at least for me, is that you don't have the balanced power during swings, so you likely don't tone your muscles as well. The Original Kettle Gryp, first seen on ABC's Shark Tank, lets you turn dumbbells into kettlebells. Just lock the dumbbell into the Gryp handle, which weighs less than 1 pound, and you've transformed your dumbbell into an energy-burning kettlebell. The bright orange Gryp is designed to hold most dumbbell handles so you can quickly swap weights.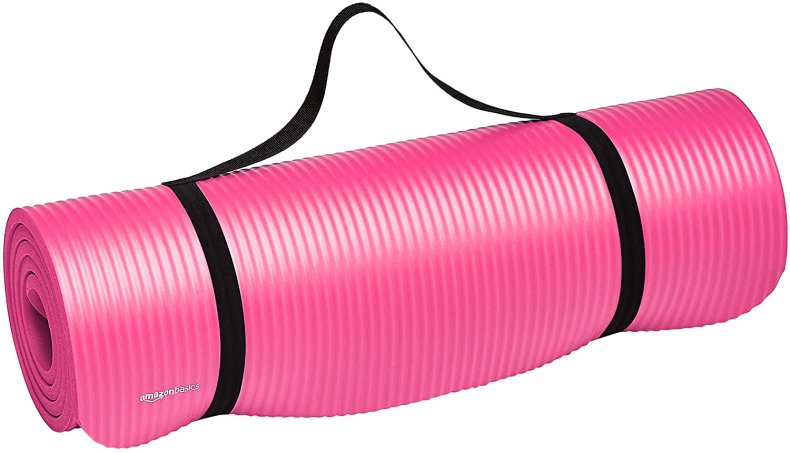 Anyone who practices yoga can tell you that the quality of yoga mats varies widely. A too-thin mat can take the focus off the yoga position and shift it to pain. Amazon Basics Extra Thick Yoga Mat is cushy plus has textured foam construction to aid your stability and traction. Roll up the 74-inch by 24-inch by 1/2-inch thick mat and slip the elastic straps over your shoulder to carry it anywhere. Choose from among seven colors.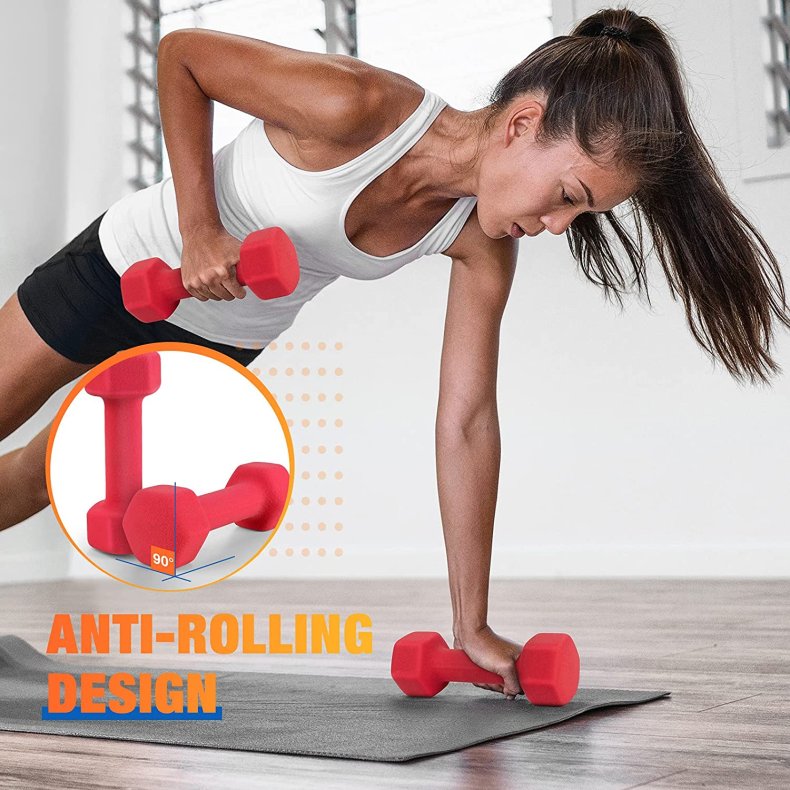 Free weights are a staple of just about any workout. It's easy to see why Portzon Neoprene Dumbbells are top sellers at Amazon. You can choose weight sets between 1 and 15 pounds in an array of colors. What truly sets them apart, though, is their design. They have an impact-absorption angle structure that disperses severe impact, a comfortable, non-slip grip that prevents calluses and solid, cast iron cores that ensures durability. Plus, they are designed, so they are anti-roll. That means you can safely use them for your entire routine without fear they will slip away and cause you to fall.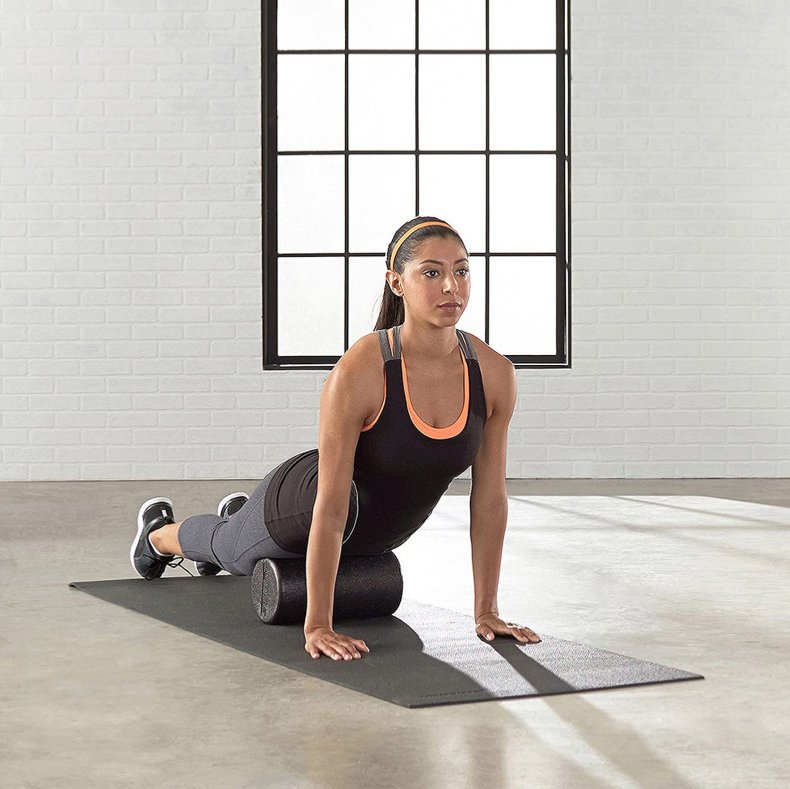 I never quite understood the point of a foam roller until I used one after a particularly long workout. That was when I suddenly understood how a roller could loosen your muscles—I didn't have as much soreness as usual! Amazon Basics High-Density Round Foam Roller is made from molded polypropylene, so it keeps its shape no matter how you use it. That means it will hold up no matter how often or in what way you use it. It comes in a variety of sizes and colors.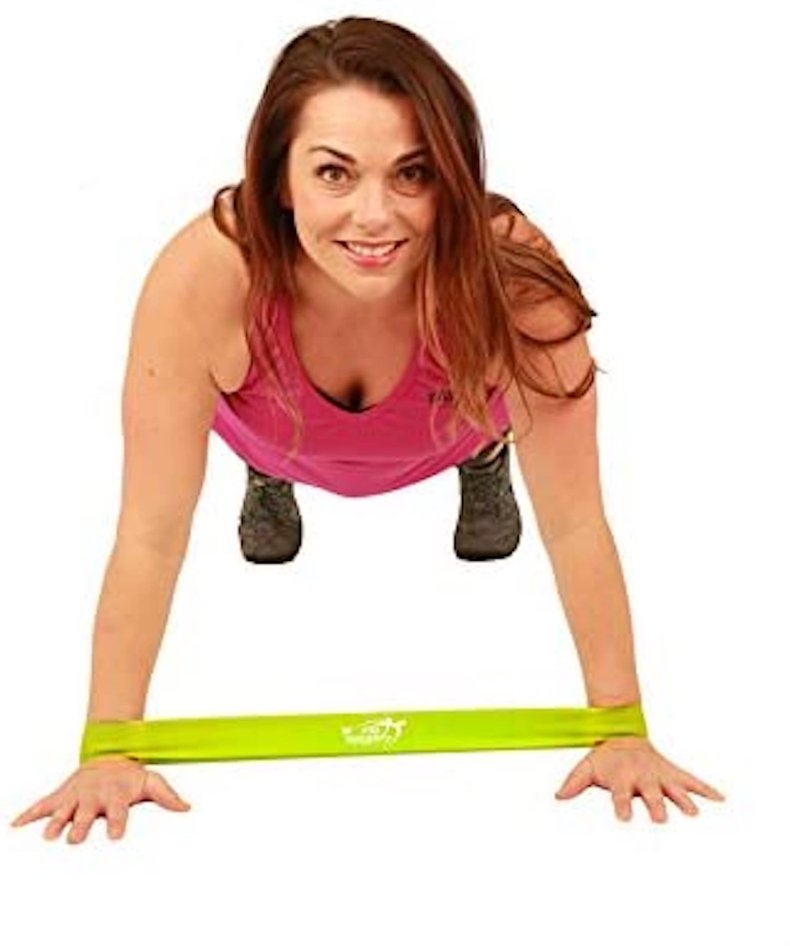 There aren't many exercises that are more versatile than resistance bands. Fit Simplify Resistance Loop Exercise Bands come in varying resistance levels so that you can choose the best firmness for your specific strength training, power weight workouts and general exercise needs. The variable resistance also ensures beginners, intermediate and advanced users have the right band. Use the carrying bag to keep the bands together and take them to the gym, outdoor workouts or wherever else you will use them. Choose from a variety of colors.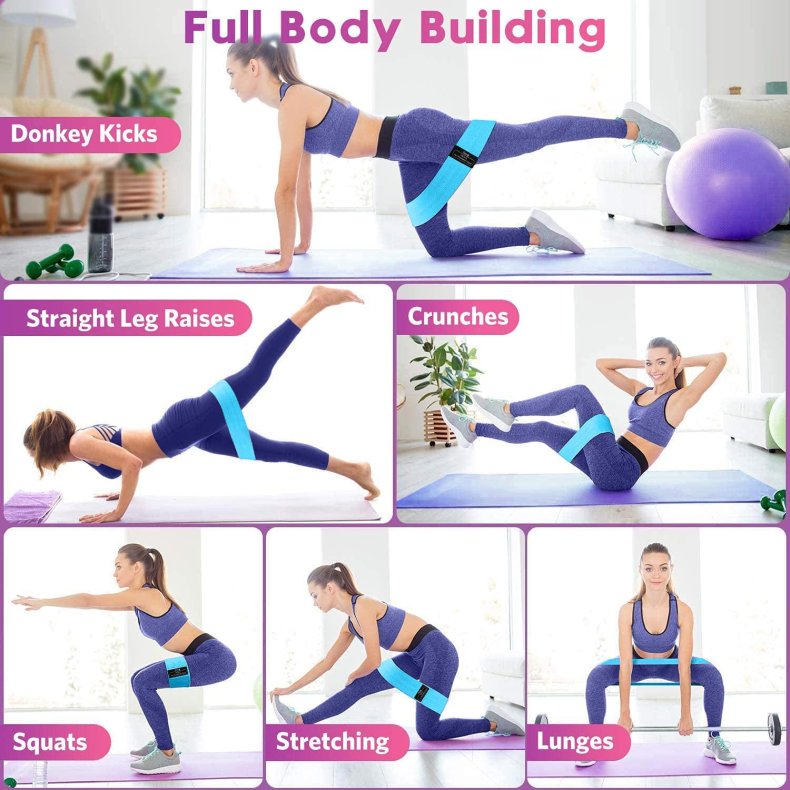 The Renoj Resistance Bands for Women are specifically designed to shape legs and butts. The fabric bands won't slip when you use them during p90x, CrossFit, Pilates and other strenuous workouts. The six different bands have various resistance levels and ensure hip bands aren't too large for smaller boned users. Choose from various colors.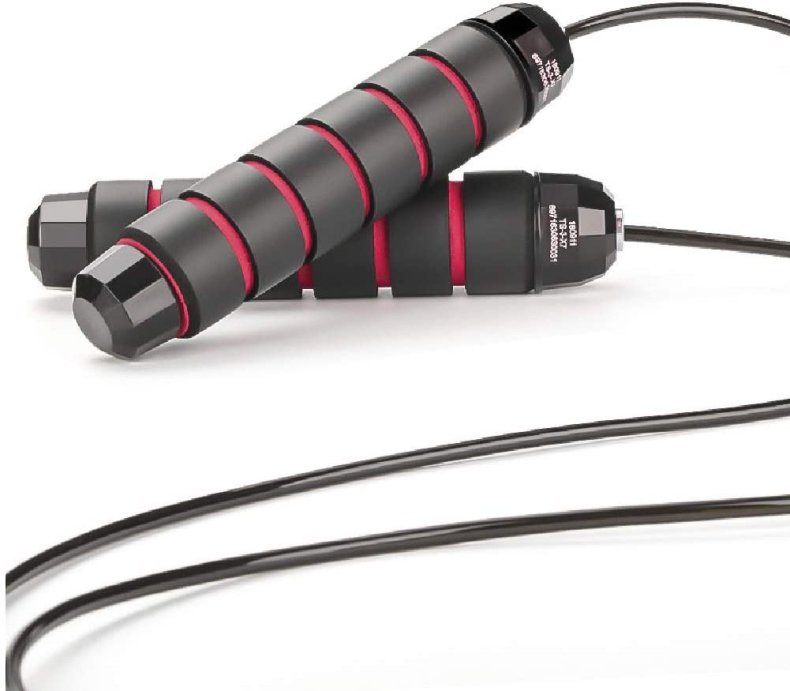 There is a reason boxers, MMA fighters and other premier athletes skip rope––it's an excellent workout for stamina, speed and endurance. Sure, you can use just about any type of rope to skip, but those who want the best should look at DEGOL Skipping Rope with Ball Bearings. No matter how vigorously you exercise, it won't twist or bend. Plus, it has comfy foam grip handles and an adjustable length to suit your height.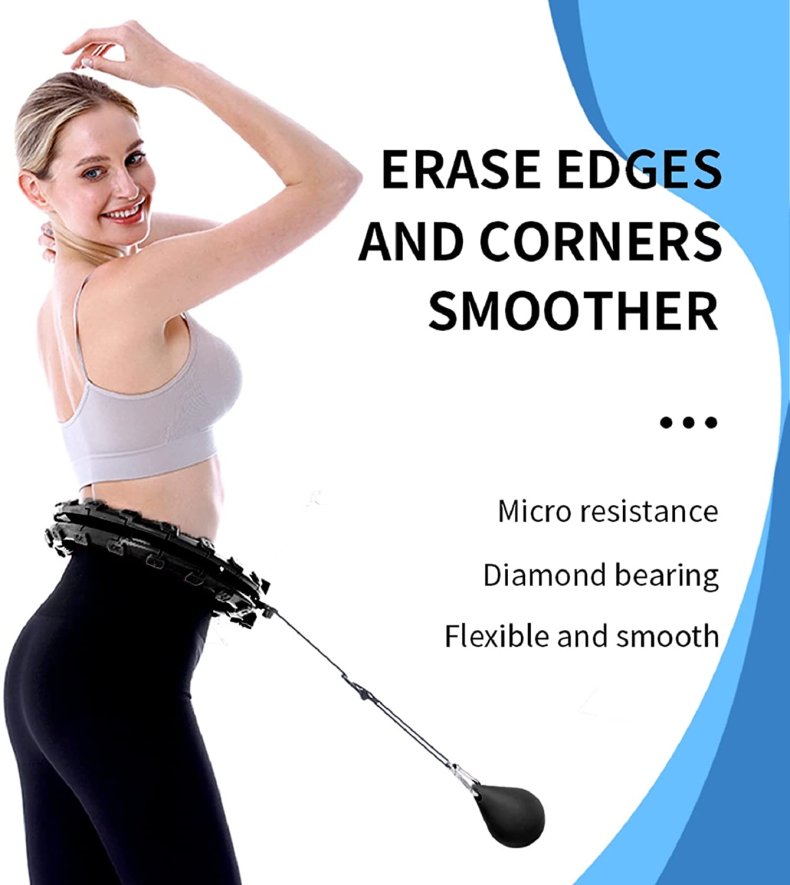 Many of us spend our days sitting in front of computers, contributing to weight gain, lack of flexibility and lower back pain. Dumoyi Smart Weighted Fit Hoop for Adults can take the times you stand to a higher level. Lock the ring and its attached 4-pound weight around any waist measuring 31 inches to 47 inches. As the user swivels, the hoop rotates around the body. It's a great tool to boost the calorie-burning power of a short workout. Choose from five colors.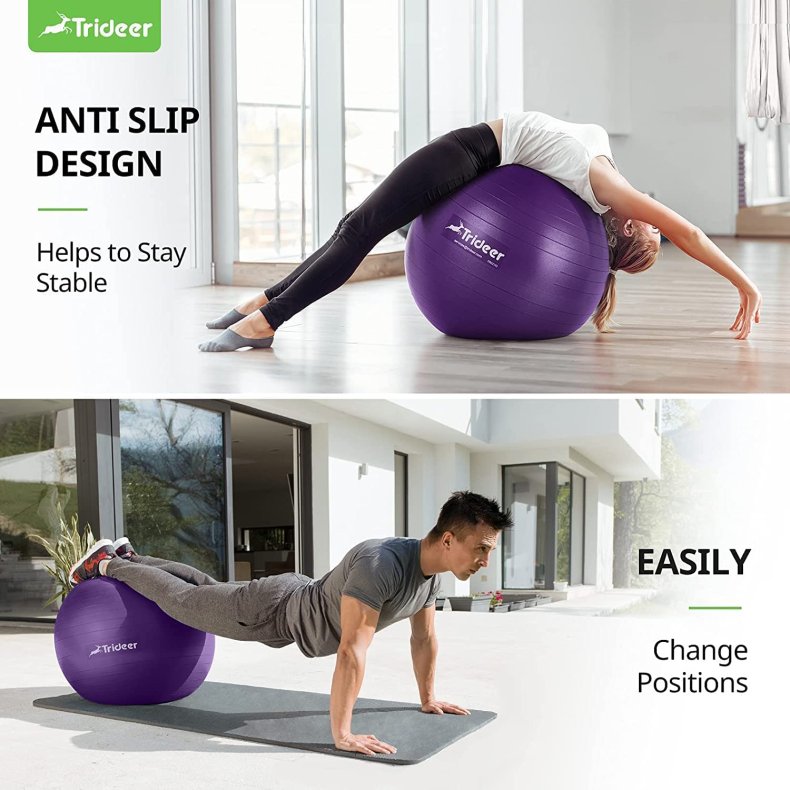 The Trideer Extra Thick Yoga Exercise Ball is burst-resistant and prevents slips. That means you stay safe whether you use it as a chair or an exercise aid for pilates, yoga, strength training and high-intensity workouts. No matter how you use it, the ball helps build abdominal strength, which can alleviate back pain. It comes with a quick foot pump and two stoppers. Choose the size and color that works best for you.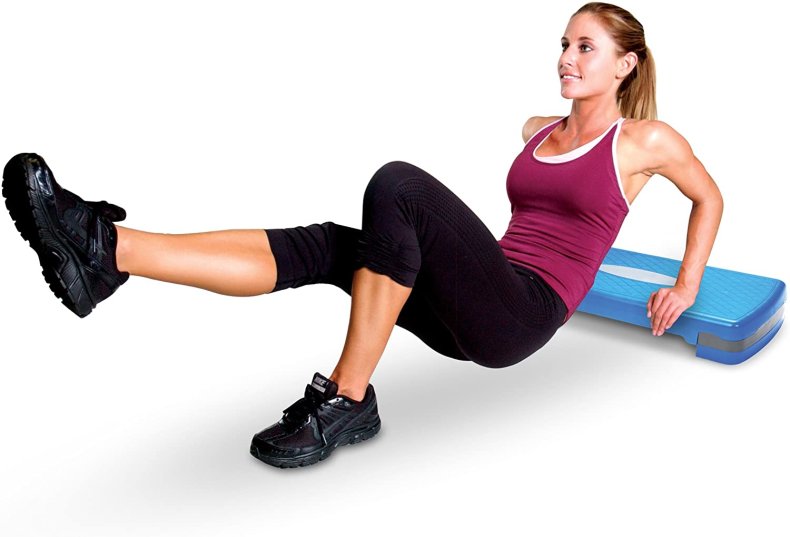 An aerobic step can add some variety to your cardiovascular workout. The Tone Fitness Aerobic Step Platform is solid, boasts a non-slip surface and is adjustable to 4-inch and 6-inch heights. It even boasts non-skid feet to protect flooring. Choose blue and gray, lime green and black or black and pink color combinations.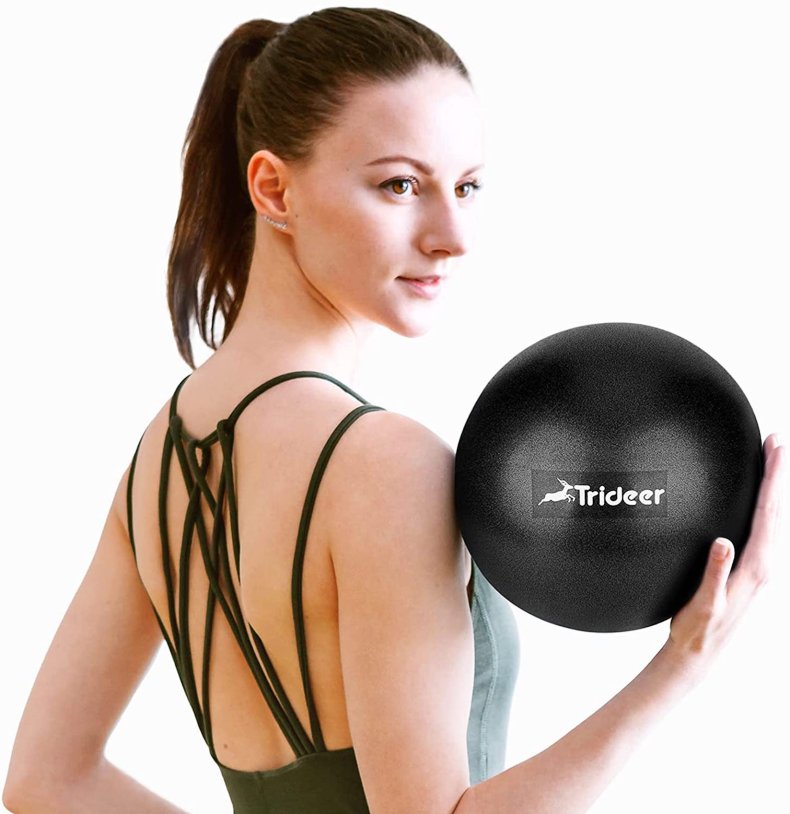 Exercise balls strengthen key muscles when you do yoga, pilates and other exercises. Those who exercise with equipment like the 9-inch Trideer Pilates Ball often report increased flexibility, strength and endurance. The ball is anti-burst, non-slip and even feels slightly sticky so that you won't lose your grasp on it. It comes with a tube to inflate the ball and is available in five colors.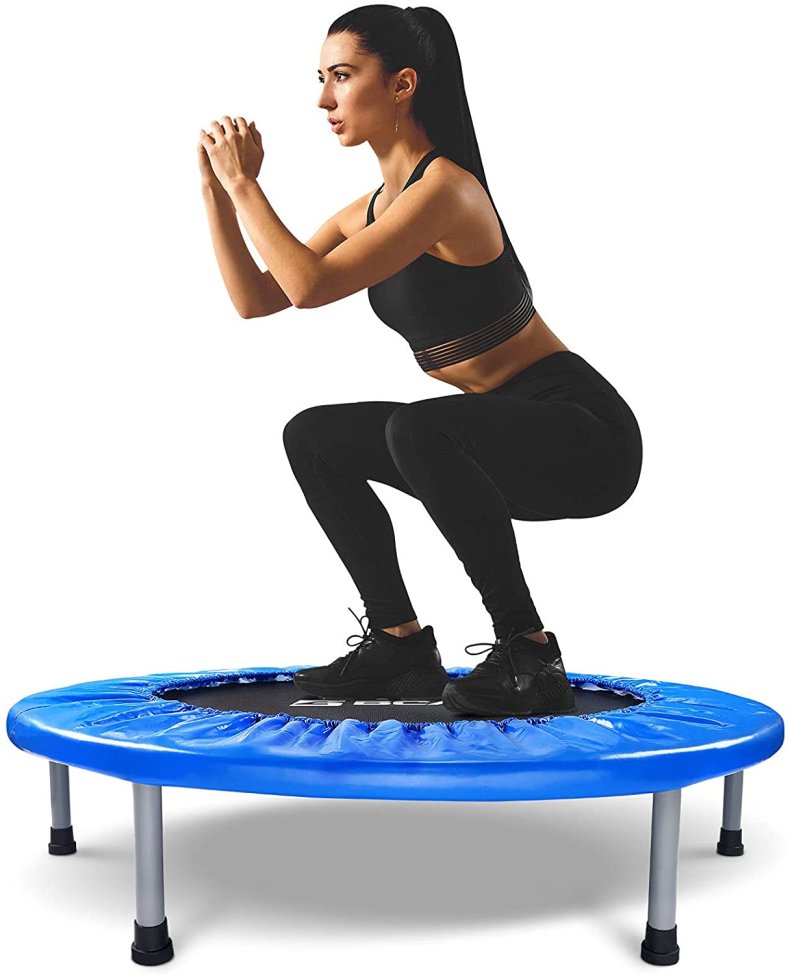 Anyone who weighs up to 440 pounds can use the BCAN Foldable Mini Trampoline to build cardiovascular strength, improve balance and increase bone mass. This trampoline has 32 closed springs that are easy to connect, and it measures 38 inches. You can even fold the waterproof, anti-scratch, easy-to-clean trampoline to take it on vacation. Choose the color that works for you.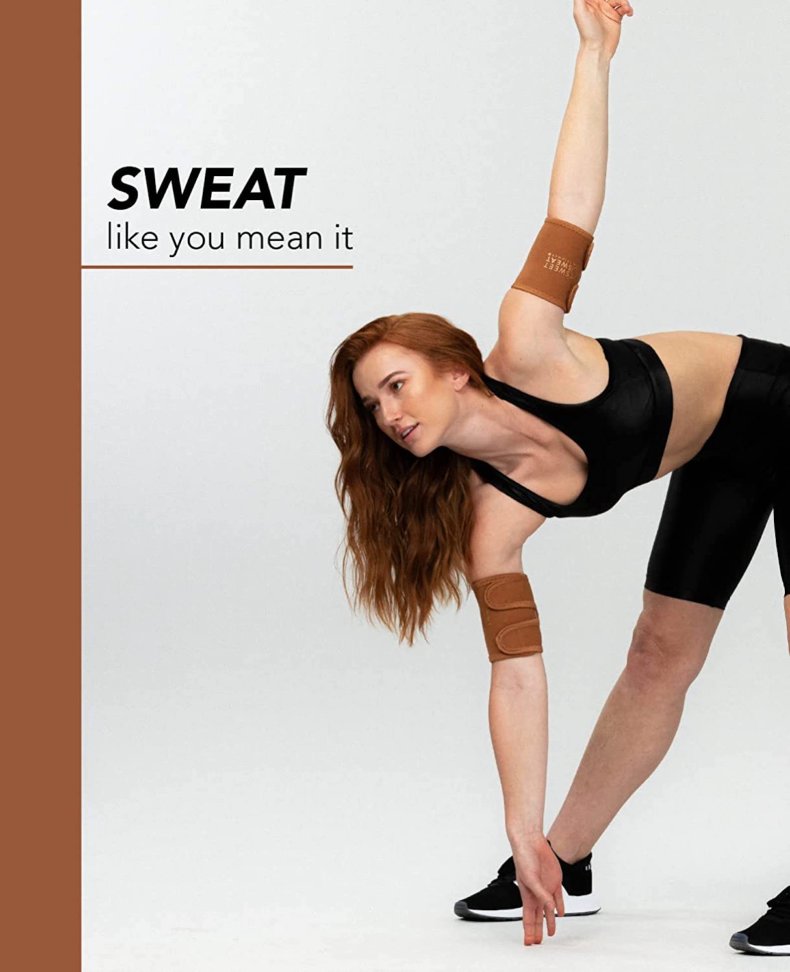 Boost your work out with Sports Research Sweet Sweat Arm Trimmers that provide thermal compression to your biceps. The latex-free Neoprene sleeves prevent moisture absorption and minimize slipping and bunching, so they don't distract you from your workout. They are available in various small, medium and large sizes for both right and left arms. Choose the color that best suits you.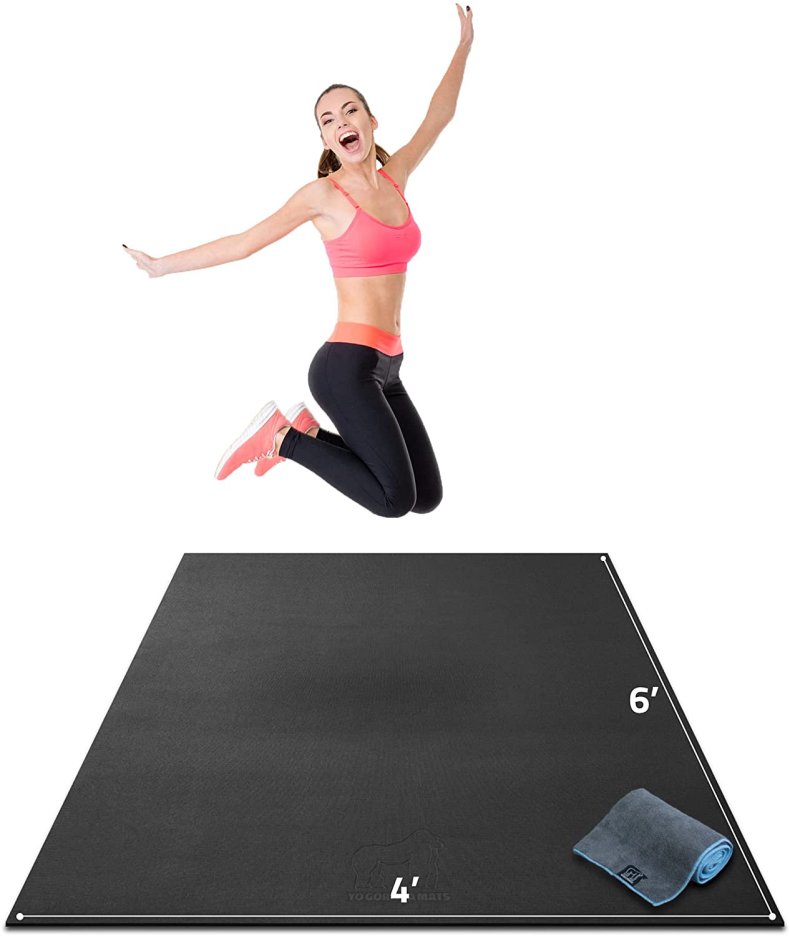 Give your home gym an extra dose of comfort and safety by lining the floor with Gorilla Mats Premium Large Exercise Mat. It's available in various sizes and thicknesses up to a third of an inch thick. Whatever size you choose, it features a patterned bottom that grips the floor and prevents sliding. The mat is made of UltraDurable ProFoam that is eco-friendly and non-toxic. Available in various colors.
Newsweek may earn a commission from links on this page, but we only recommend products we back. We participate in various affiliate marketing programs, which means we may get paid commissions on editorially chosen products purchased through our links to retailer sites.