12 Low-Calorie Foods for Weight Loss That Will Keep You Full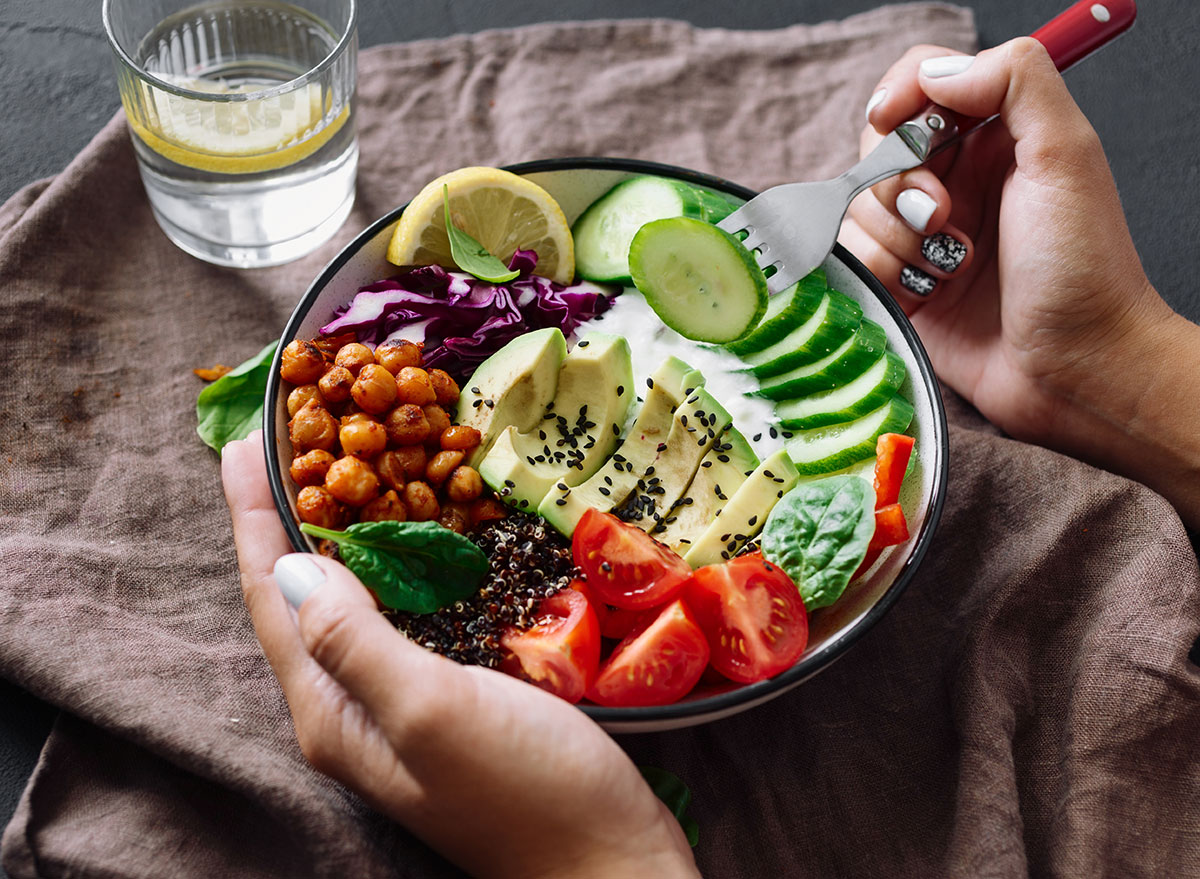 Whether the idea was prompted by a doctor's recommendation or the decision was of your own volition, committing to losing weight based on a low-calorie diet (and exercise) is no easy feat. Rationally speaking, we're all aware that the potential rewards accompanying effective follow-through on a healthy diet and exercise regimen can certainly outweigh the stress of coping with potential health complications stemming from unhealthy eating habits (think: a lack of energy, diabetes, high cholesterol, cardiovascular and metabolic problems, etc.). However, that doesn't make the temptation to veer off your healthy path any less real or challenging. Although adjusting to a healthier lifestyle may mean dealing with a little discomfort at first, the tweaks you make to your regular routine don't have to feel like daunting sacrifices—not if you know which delicious low-calorie foods can also work to your advantage as you embark on your weight loss journey.
As the Mayo Clinic notes, "Your weight is a balancing act, but the equation is simple. If you eat more calories than you burn, you gain weight. And if you eat fewer calories and burn more calories through physical activity, you lose weight."
The Dietary Guidelines for Americans 2020–2025 suggest that to maintain a healthy weight, men should eat between 2,200–3,000 calories per day, and women should stay within a 1,600–2,400 calorie range each day. With that in mind, it's safe to assume that eating anything less than these respective ranges could constitute as a low-calorie diet.
But eating fewer calories doesn't always mean eating less food. In fact, there are plenty of tasty low-calorie foods that encourage weight loss which you can eat by the fistful while also satisfying and even curbing your appetite.
What kinds of low-calorie foods should you stock up on for weight loss?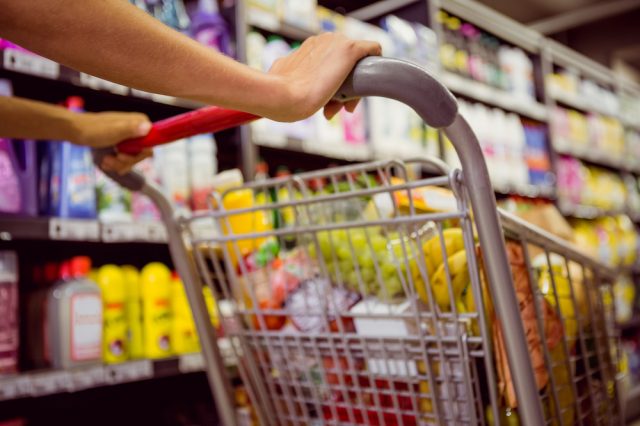 While on your weight loss journey, you will soon realize there is an innumerable variety of low-calorie foods at your disposal. However, you'll likely want to target those foods that are not only nutrient-dense but also satiating. This is because when your body experiences feeling full, it mitigates the temptation to overeat. Many vitamins, minerals, and nutrients cater well to weight loss, but some of the real heavy hitters to look out for include protein, fiber, vitamin C,  B vitamins, iron, magnesium, and quality carbohydrates from whole sources like fruits, veggies, and legumes.
There are probably more foods of this ilk already in your orbit than you may even realize. And if you already happen to love a particular low-calorie food that's high in fiber and protein while also offering a diverse range of vitamins and minerals, you're already one step closer to achieving your weight loss goals. But if you're unsure which low-calorie foods check other nutritional boxes that enable weight loss, don't worry—we've got you covered right here!
Read on to find out which low-calorie foods for weight loss can also keep you full—and for more healthy eating tips to help support your weight loss goals, be sure to check out 20 Best Superfoods To Eat for Weight Loss.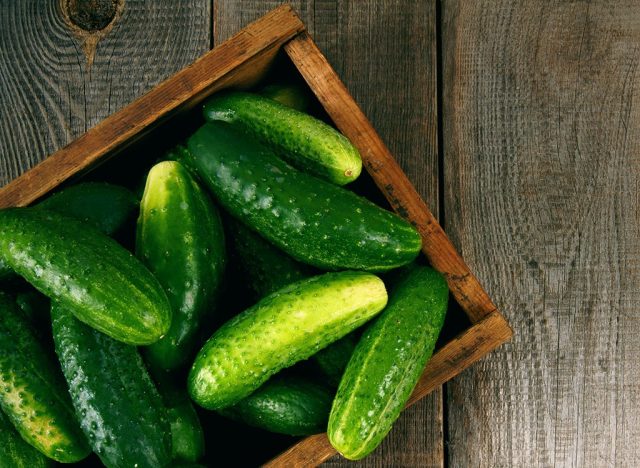 Comprised of over 95% water, cucumbers are a refreshing palate cleanser offering a host of health benefits—yet only a few measly calories. One cup of cucumber slices is only about 15 calories, and if you keep the skin on, you'll get about a gram of fiber, too. As one Nutrients study assessing the correlation between food energy density and body weight changes notes, there is a clear link between weight loss and eating foods that are lower in calories.6254a4d1642c605c54bf1cab17d50f1e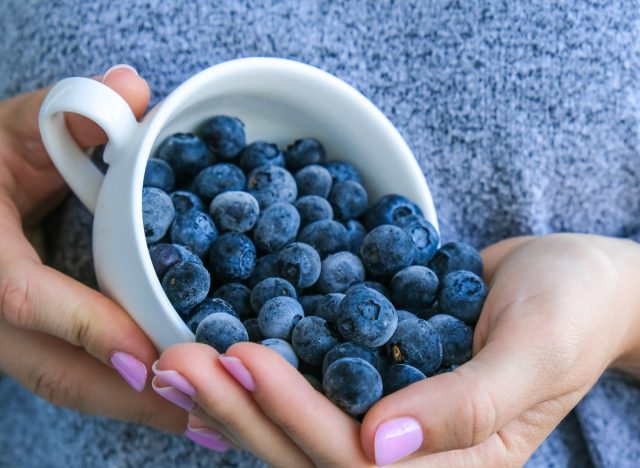 Not only does one cup of blueberries contain 85.5 calories, almost 4 grams of fiber, and 1.1 grams of protein, but it's also loaded with an assortment of beneficial vitamins and nutrients that can help make weight loss a breeze. One recent Nutrients study, in particular, observed the effects of consuming the equivalent of a cup of natural blueberries as favorable for weight loss because of their ability to help your body burn fat amid exercise.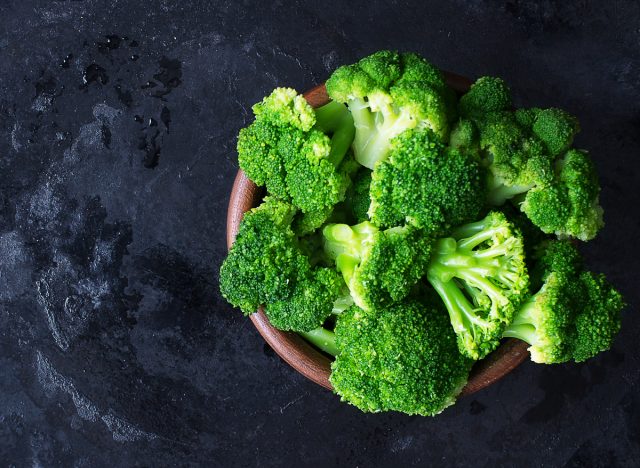 At only 30 calories per cup, chopped broccoli florets will fuel your body with over 2 grams of protein and fiber, respectively. A single cup of chopped broccoli also contains 82 milligrams of vitamin C, which—at 90% of your DV for this vitamin— is also conducive to weight loss. This is because the more vitamin C in your system during workouts, the easier it is for your body to burn more fat. A study published in the Journal of Nutrition also found that those who ate greater amounts of vitamin C tended to weigh less than those who did not get much of it into their diets.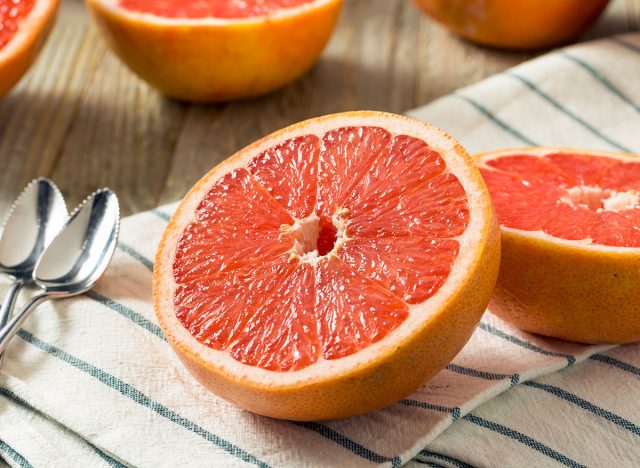 A classic citrus delight, one-half of a grapefruit is only 52 calories. With that, you're also getting 2 grams of fiber and nearly 40 milligrams of vitamin C, which is over 42% of your DV of vitamin C. While this fruit has developed a controversial reputation as the focal point of a few questionable and toxic fad diets, when eaten as part of a well-balanced, diversified meal plan, grapefruit is an excellent snack to help burn off a few lbs. For instance, a 12-week pilot study published via The Journal of Medicinal Food on the effects of consuming grapefruit relative to weight and insulin resistance found that participants who either drank a glass of grapefruit juice or ate half a grapefruit with every meal experienced significant weight loss.
A one-ounce serving of almonds is only 164 calories yet packs a protein punch equal to 6 grams and 3.5 grams of fiber. Thus, almonds are the perfect portable healthy snack to help keep hunger at bay. As previously mentioned, the less peckish you get throughout the day, the less inclined you'll be to indulge in ways that will derail your weight loss goals.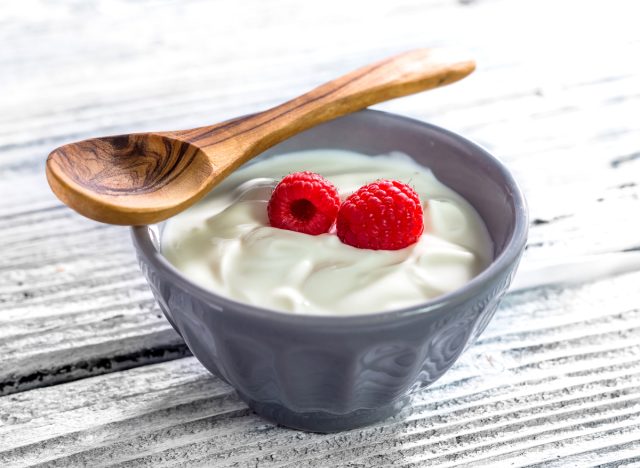 Greek yogurt is an excellent neutral canvas that helps to elevate the flavors of other nutritious foods, like almonds, berries, cucumbers, and even baked potatoes. At over 25 grams of protein per cup, Greek yogurt is a filling protein powerhouse that's less than 150 calories per serving. Best of all, research suggests that its propensity to keep you full may support weight loss. One study published in Appetite found that female participants who consumed high-protein Greek yogurt felt less hungry and more full for longer than when they snacked on other protein-forward foods.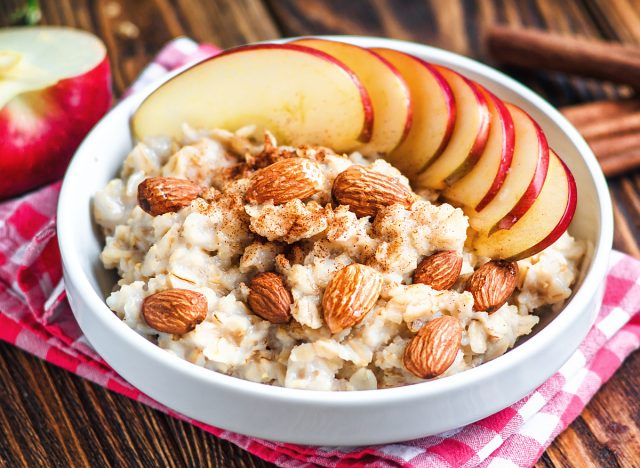 Like Greek yogurt, oatmeal is also a versatile, healthy food capable of beautifully complementing either sweet and savory flavors. And from a nutritional standpoint, this particular food is a superb option to help you achieve your weight loss goals. Just a half-cup of rolled oats will provide you with 150 calories, 5 grams of protein, and 4 grams of fiber. While a half-cup may seem like a meager portion size, underestimating what this food is capable of on the fiber front would be a huge mistake. Not only will this stick to your ribs and tide you over till your next meal, but 4 grams of fiber accounts for 15% of your DV of this nutrient.
Raspberries should be at the top of your grocery list when shopping for low-calorie foods. Here's why: At only 64 calories per cup, these bite-sized berries seem like a caloric steal!  Also, a one-cup serving contains a whopping 8 grams of fiber. Some studies have also observed a connection between weight loss and the primary aroma compound in raspberries, known as raspberry ketone.
A cup of pear slices is only a mere 80 calories, yet it also contains a little over 4 grams of fiber, making them an excellent eating choice as you work toward losing weight. In fact, one study published via Nutrition found that female participants who ate either 3 pears (or 3 apples) each day were able to accelerate their weight loss compared to those who ate fewer fruits over the course of 12 weeks.
Long before Kenan Thompson asked audiences, "What's up with that?" on Saturday Night Live, he was on the Nickelodeon sketch comedy show All That preaching the benefits of eating peas. Although his lunch lady character Ms. Piddlin was as quirky as they come, she also delivered (well, sang) this sage advice to the students of Dullmont Jr. High: "Peas are the champions." Just one cup of peas is only 117 calories, while also containing around 8 grams of fiber and protein, respectively. Furthermore, peas have been scientifically linked to supporting and sustaining weight loss, along with beans, lentils, and chickpeas. So, if you are still skeptical about eating peas yet are hoping to lose weight, to quote Ms. Piddlin, "Give peas a chance."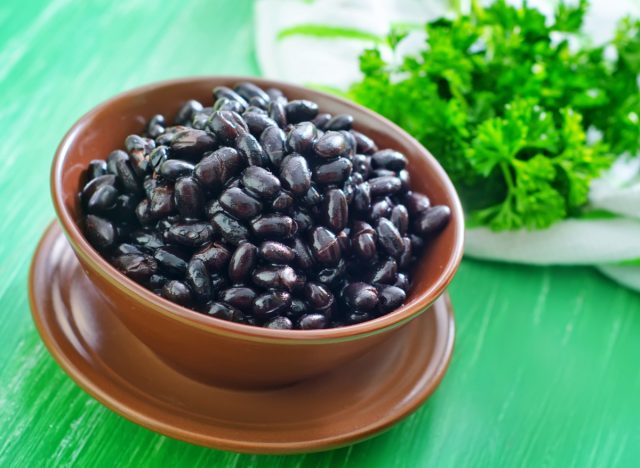 One half-cup of black beans provides almost 7 grams of protein and nearly 5 grams of fiber, which is also about 18% of your DV. You might assume that this would mean these legumes are caloric bombs, but actually, this amount of black beans is only 110 calories. In fact, the results of a 2020 study published in the Journal of Nutrition and Metabolism suggest that black beans can even help you achieve the snatched waistline you've always wanted while reducing your body fat because "beans and other legumes seem to have dietary qualities that may be beneficial in the battle against obesity."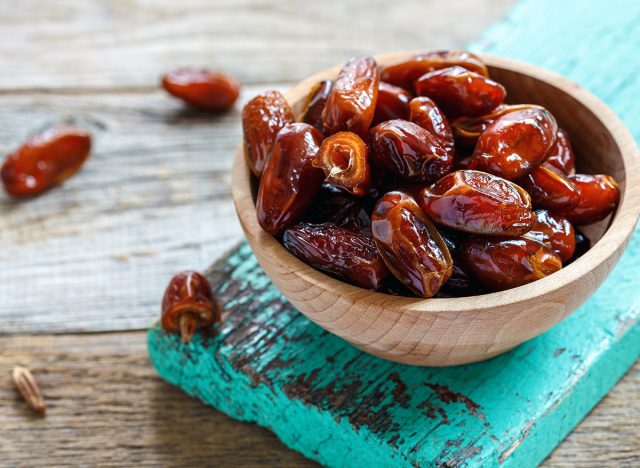 While the jury is still out on whether or not there is a direct correlation between date consumption and weight loss on the research front, a 2020 clinical trial found that "eating three dates per day did not lead to an increase in body mass index (BMI). Therefore, it seems that people can eat a small number of dates each day without this leading to weight gain," according to Medical News Today. One pitted date may contain 18 carbohydrates lots of natural sugar, but research has shown that quality carbohydrates from whole foods can be more satiating than fats. Additionally, they are only 66.5 calories each and provide almost 2 grams of fiber, making it a filling fruit able to satisfy your sweet tooth when tempted by other less-than-nutritious treats that can really set you back on your weight loss journey.